Discussion Starter
·
#1
·
This is very straight forward.
Tools + Parts
6mm SS grease nipples.
2mm & 5mm drill bit + battery drill
6mm taps; starter & intermediate (no need for a finish tap if using SS nipples, they are soft enough that the steel will cut into the nipple)
visegrips
grease / grease gun
optional: beers, cold, multiple.......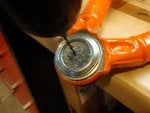 I also run with a small drill bit as a starter, dip the bit in grease once your underway and 2-3mm in to catch the chips when you breaks through, Looking into the joint they are as dry as, there is no grease work a damn in there from the factory........
run through with the 5mm drill bit, again dip in grease to catch the cuttings and use a really low speed, there is a 2-3mm gap when you break trough the outer cap on the lower ball joints, the uppers are different in that the ball runs allot closer to the cap (at least on mine anyways)
use the starter tap and cut the initial thread, be careful they have a long taper and at best you will only cut one of two turns before the tap bottoms, if you keep turning you will strip out the shallow newly cut start thread. Then run in the intermediate tap, the perfectionist will then run in a finish or flush tap to get the full thread cut.
Screw in the nipple good and snug, on mine 2 of the 4 top plates in the ball joint spun when running in the nipple, clipping a curved jaw vise grip over the ridge and clear of the rubber boot added enough friction to allow the job to be finished. The press fit isn't that tight it seems, one of mine even weeps grease, i suspect this is why some people get early failures, water can get in, no grease and they are worn out before you know it.
2 pumps on the grease gun is all it takes to get grease flowing around the joint into the boot, filling the boot is pointless the grease is already past the mechanical ball section of the joint, over filling the boot just wedges em off and makes a mess..........
longer life ball joints !!!!!!! I've done them in place with the quad sitting on it butt and the wheels off, easy as......... a good job with a couple beers too hand!!
An easy 2 beers time frame rating !!!​